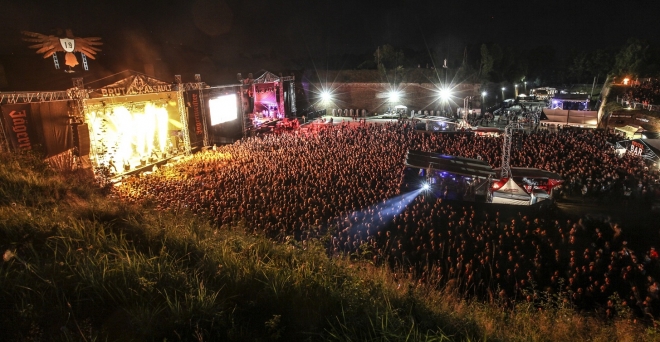 jeudi 2 novembre 2017
6 nouveaux noms pour le Brutal Assault 2018

Traleuh
On le sait déjà, la vingt-troisième édition du Brutal Assault se déroulera du 8 au 11 août 2018 à la forteresse de Josefov, en Bohème (République tchèque). Une nouvelle annonce vient justement d'être communiquée !
Iront donc se joindre à l'affiche la mythique formation américaine Ministry mais également les californiens de Saint Vitus, Broken Hope, Blood Incantation, Origin et Aluk Todolo.
Pour rappel, les noms déjà annoncés sont : At The Gates, Sadistic Intent, Pestilence, Misery Index, The Black Dahlia Murder, Nails, Kurokuma, Novembers Doom, Obscure Sphinx, Ihsahn, Perturbator, Carpathian Forest, Dead Congregation, Protector, Whoredom Rife, Wardruna, Converge, Tormentor et Ingested.
Voici le communiqué officiel du festival :
NEW BANDS ANNOUNCEMENT
It's been only two years since the last Ministry BA show but the impression Al Jourgensen and his cohort left the last time was so intense we simply couldn't resist to draw this powerhouse of psychotic sound back when they're available with a new record!
Long before the early 2010s, before the legions of Sabbath-worshipping bands emerged from their caverns with lava-lamp font logos and denim vests, there was Saint Vitus. Along with bands like Pentagram or Trouble, Saint Vitus pioneered doom metal in its manifestation as a distinct metal sub-genre and in 2018 they will finally make their BA debut! Blood incantation will unleash upon you cerebral whirlwind of atmospheric death metal. The energy and magnetism of live Blood incantation will tangibly melt through the PA system, taking you to an unknown dimension. Also in the dimensions of death metal, Origin explode forth with the intensity of a second Big Bang phenomenon, launching cranium-collapsing projectiles of extremely fierce technical death metal, merging technicality with utter brutality. Speaking of brutality, Chicago's Broken Hope should be the first band mentioned under the entry brutality in virtual lexicon of death-metal history.
Last but not least get prepared for primordial vibrations and sonic manifestation of the forces of the universe channeled via hypnotic occult rock of the Frenchmen Aluk Todolo.
Plus d'infos à venir.
Le report de l'édition 2017 est toujours disponible dans nos pages.