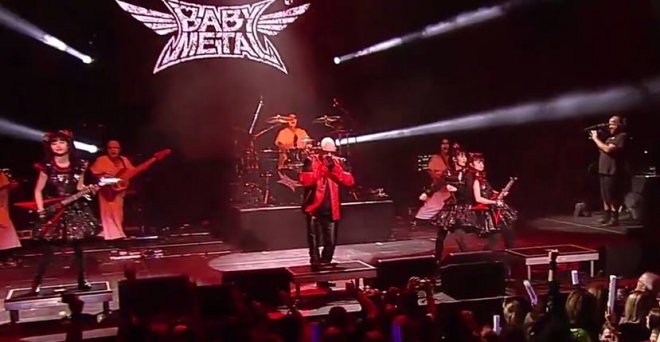 mardi 19 juillet 2016 - Schifeul
BABYMETAL sur scène avec Rob Halford pour interpréter Painkiller et Breaking The Law

Schifeul
Dans l'équipe car il était là avant.
Parce que les photos avec des membres de groupes genre Carcass, Slayer ou Abbath ça va bien 5 minutes, BABYMETAL a décidé de passer à la vitesse supérieur en invitant sur scène Rob Halford de Judas Priest. Comme il est indiqué de la vidéo de présentation, le discret destin à giflé le populaire hasard et cette rencontre du Fox God et du Metal God chanteur de Judas Priest devait avoir lieu à un moment ou un autre. Cela c'est donc fait lors des Alternative Press Music Awards où après avoir interprété KARATE, Su chante Painkiller en duo avec Rob avant que Moa et Yui ne les rejoignent à la guitare pour jouer Breaking The Law.
Rob et Su se sont fendus d'un petit commentaire suite à cette évenement mémorable :

"That was really intense: Babymetal give a thousand percent just like Priest," Halford said in a statement after the performance. "They're leading the charge into the new frontier of heavy metal." "It was really amazing and fantastic," Su-metal said. "A collaboration with Rob Halford, the 'Metal God,' has always been my dream. I never imagined that dream would come true!"