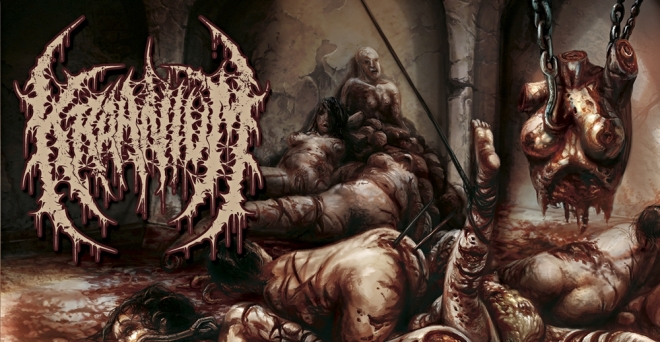 mardi 11 août 2015 - Team Horns Up
Un nouvel extrait du prochain Kraanium en avant-première sur Horns Up !

Team Horns Up
Compte groupé de la Team Horns Up, pour les écrits en commun.
C'est le 18 septembre prochain que sortira le quatrième album des Norvégiens de Kraanium (Brutal Death Metal), baptisé « Chronicles of Perversion », via Comatose Music.

Nous vous proposons en avant-première sur Horns Up un nouvel extrait avec le titre "Acid Cumbustion" en écoute ci-dessous.
Il devrait faire plaisir à tout fan de Devourment qui se respecte.
Gruik !

Les précommandes sont ouvertes en cliquant ICI.
Tracklist:
1. Rock Filled Orifice
2. Human Skin Fuck Doll
3. Hung By Your Entrails
4. Destined for Surgical Defilement
5. Evisceration of Pre-Teen Cadavers (en écoute ici)
6. Chronicles of Perversion
7. Acid Cumbustion
8. Rusty Knife Defloration
9. Fermented Uteral Mastication
10. Sodomize Her Headless Corpse
11. Revisitate to Mutilate


L'artwork est signé Marco Hasmann (Blasphemer).