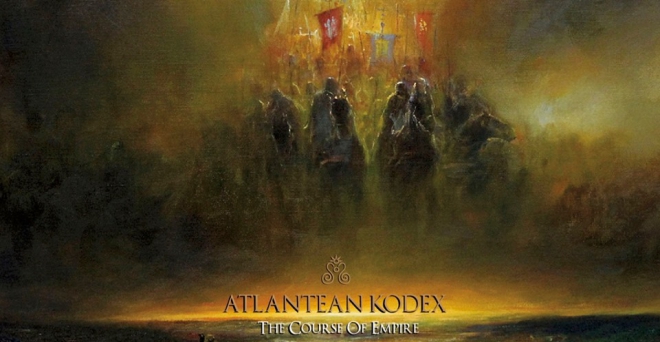 jeudi 15 août 2019
Atlantean Kodex dévoile le titre "People Of The Moon (Dawn of Creation)"

Hugo
J'écoute que du rap et de la techno en vrai.
Les Allemands de Atlantean Kodex (Epic Heavy/Doom Metal) sont de retour pour leur troisième album !
Intitulé The Course of Empire, celui-ci sortira chez Ván Records pour une date de sortie fixée au 13 septembre prochain. Il succèdera à The White Goddess (2013).
La pochette est signée Mariusz Lewandowski.
Découvrez un premier extrait du disque ci-dessous !
Tracklist :
1. The Alpha And The Occident (Rising From Atlantean Tombs)
2. People Of The Moon (Dawn Of Creation)
3. Lion Of Chaldea (The Heroes' Journey)
4. Chariots (Descending From Zagros)
5. The Innermost Light (Sensus Fidei)
6. A Secret Byzantium (Numbered As Sand And The Stars)
7. He Who Walks Behind The Years (Place Of Sounding Drums)
8. Spell Of The Western Sea (Among Wolves And Thieves)
9. The Course Of Empire (All Thrones in Earth And Heaven)
10. Die Welt von gestern (Abendland)