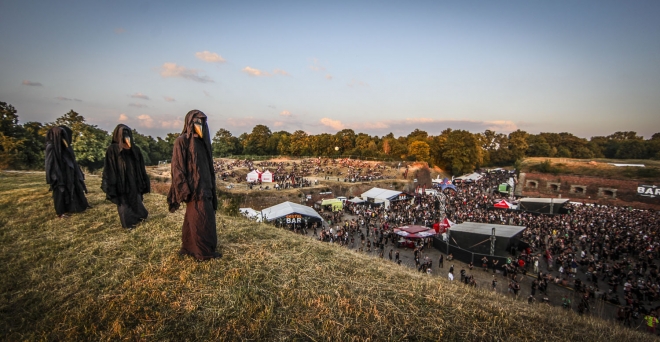 lundi 16 octobre 2017
Une nouvelle fournée pour le Brutal Assault 2018

Traleuh
On le sait déjà, la vingt-troisième édition du Brutal Assault se déroulera du 8 au 11 août 2018 à la forteresse de Josefov, en Bohème (République tchèque). Une nouvelle annonce vient justement d'être communiquée !
Viennent donc se rejoindre à l'affiche la formation norvégienne Wardruna mais aussi Converge, Tormentor et Ingested !
Pour rappel, les noms déjà annoncés sont : At The Gates, Sadistic Intent, Pestilence, Misery Index, The Black Dahlia Murder, Nails, Kurokuma, Novembers Doom, Obscure Sphinx, Ihsahn, Perturbator, Carpathian Forest, Dead Congregation, Protector et Whoredom Rife.
Voici le communiqué officiel du festival :
"NEW BANDS ANNOUNCEMENT! WARDRUNA, TORMENTOR, CONVERGE, INGESTED!

Wardruna is a Norwegian music group founded by Einar Kvitrafn Selvik that first enchanted their listeners with their mesmerizing debut album 'gap var Ginnunga' in 2009, which also marked the first part of the planned 'Runaljod' trilogy. In the ensuing years the group have spent a lot of time on adapting their music to a live format and establishing a live band. This resulting in a handful of very special concerts, perhaps most notably when they performed in front of the majestic 1100-year-old Gokstad ship at the Viking Ship Museum in Norway.

With the use of the oldest of Nordic instruments and poetic metres as well as lyrics written in Norwegian, Old Norse and Proto-Norse tongue, Wardruna manages to make ​​a strikingly beautiful and intense continuation of old northern musical traditions.Indeed Wardruna primarily use old and historical instruments such as primitive deer-hide frame drums, Kraviklyra, tagelharpe, mouth harp, goat horn, lur and more. Non-traditional instruments and other sources of sound like trees, rocks, water and torches are also used. All of these elements are carefully woven into a rich musical landscape and complemented with whispering voices, melodic song and mighty choirs. Although Wardruna's music share characteristics with music typically labeled as folk, world and/or ambient, none of these genres can really describe their unique style. It truly must be experienced and you will have the unique opportunity at Brutal Assault 2018!

With great pleasure we can announce that Tormentor (official) will return from the dead after 20 years of silence to play BA 2018' Formed in Budapest in 1985, Tormentor (official) is the one the best kept secrets in black metal. Possibly not that many fans of the 2nd wave of black metal bands (especially from Norway) can appreciate the immense influnce that Tormentor (official) had on their output. The iconic debut album, 'Anno Domini' together with the 'Seventh Day of Doom' demo are some of the most influential releases in black metal with profound impact on acts like Mayhem, Dissection, Nifelheim, Immortal, Darkthrone or Emperor.

Even though 'Anno Domini' was recorded in 1988, due to problems caused by the communist regime, it took many years to formally release it. The influence had to be spread via undergroud tape trading which kept Tormentor (official) under the radar for some, however nowadays the musical legacy of Tormentor (official) can firmly be placed amongst other pioneering acts such as Bathory, Sarcofago or Celtic Frost.

After Tormentor (official)'s early demise in 1991 the band's charismatic singer Attila was invited to join Mayhem to record his innovative vocal lines for the timeless classic 'De Mysteriis Dom Sathanas' and kept busy with the band whilst also pursuing numerous other artistic projects, while the guitarist Tamás Buday is active with Swedish masters of black thrash Nifelheim. That means you don't have to be worried about rusty skills as the bands will be appearing in the classic line-up.

Another renowned musical prophets, this time bending, expanding and fusing hardcore and metalcore will return to BA... ladies and gentlemen, prepare for Converge! These Boston-based heavy-music innovators will release a new album this November after 5 years of silence. The album tittled The Dusk In Us shows the band's artistic evolution and avant-garde sensibilities while still capturing their classic sound. After forming in Massachusetts in 1990, Converge made their debut with 1994's Halo in a Haystack. Quickly regarded as pioneers within the aggressive music arena, the band had a major breakthrough with their landmark album Jane Doe—a 2001 release praised as iconic by the countless followers of the Converge cult.

The last band on our list for today are disseminators of sickness from Manchaster INGESTED, who are currently signed to the leading label in their genre of technical brutal death metal - Unique Leader records."
Plus d'infos à venir.
Le report de l'édition 2017 est toujours disponible ici.