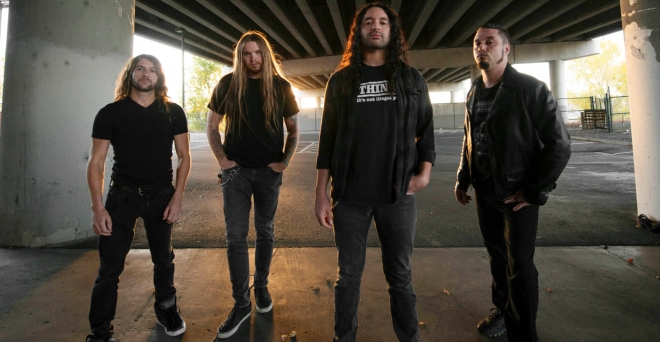 mardi 20 décembre 2016
Havok : infos sur le prochain opus ; trois nouvelles dates en France

Lactance
Havok (Thrash Metal - États-Unis) vient de confirmer la sortie d'un nouvel album, dont le titre sera Conformicide.
Le nouvel opus sortira le 10 mars prochain, via Century Media, et succèdera à Unnatural Selection (2013).
La pochette de l'album se découvre également juste en dessous.
La sortie de Conformicide sera par ailleurs suivie d'une nouvelle tournée européenne, avec trois dates de confirmées pour l'instant en France :

24 avril, 2017 - Nantes, FRA @ Ferrailleur
28 avril 2017 - Puget, FRA @ Le Rats
29 avril 2017 - Paris, FRA @ Petit Bain
Les Américians seront accompagnés pour l'occasion de Warbringer​ (Thrash Metal - États-Unis), Gorod (Progressive / Technical Death Metal - France) et d'Exmortus (Technical Melodic Thrash / Death Metal - États-Unis).
Le communiqué officiel :
"Thrash-metal stalwarts HAVOK are thrilled to announce the details of their upcoming new studio album, titled Conformicide. The Denver based group will unleash their fourth full-length record on March 10th, 2017 via Century Media, along with touring in both North America and Europe next year to support the release. Conformicide is the follow up to the band's 2013 effort, "Unnatural Selection". Discussing what fans can expect from the new record, David Sanchez (lead vocals, rhythm guitar) comments:
"'Conformicide' is our most dynamic, heavy, thoughtful, musical, and sonically-crushing album so far. All four members feel that this is the best Havok album to date. There are a lot of "truth bombs" being dropped on this record and the music absolutely rips!"
Building on Sanchez's comments, Reece Scruggs (lead guitar) adds:
"This album swings for the fences in every way. Sonically stunning, technically proficient and lyrically pissed, we've never been represented at our best until this moment in time. We cannot wait for the world to react to Conformicide."
"In the shop for almost three years, Havok's Conformicide is undoubtedly their Master of Puppets or Rust in Peace moment. True, the Denver-based rippers have bled out guts, brains, and cash on previous albums Unnatural Selection (2013), Time is Up (2011), and Burn (2009), but none of them compare to the ear-destroying, mind-flaying Conformicide. 'Conformicide is faster and way angrier than Unnatural Selection,' says vocalist/guitarist/founding member David Sanchez. 'On this album, the music is very layered and dynamic and the lyrics say a lot about the current state of the world.'"
As previously mentioned, HAVOK will return to the road in 2017 with extensive touring planned in both North American and Europe. Expressing the band's level of enthusiasm to bring their fans an even heavier and more energized live show than ever before, Sanchez states, "We can't wait to perform some new music live and present a show that people won't forget! Expect to see Havok like you've never seen before. We're ready to destroy!""