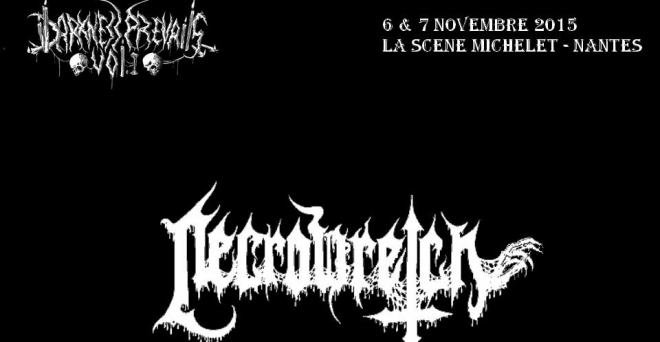 mardi 14 avril 2015 - Balin
Necrowretch rejoint les rangs du Darkness Prevails festival !

Balin
Matthieu, 24 ans, basé à Nantes. Ancien membre d'U-Zine et de Spirit of Metal. Vous me retrouverez pour les chroniques et live reports de divers styles musicaux.
Necrowretch vient d'être annoncé comme étant la tête d'affiche du samedi 7 novembre 2015 de la première édition du Darkness Prevails Vol. I qui se déroulera à Nantes du 6 au 7 novembre 2015. Organisé par l'association nantaise Eviscer'Asso, ils rejoignent pour le moment Cult of the Horns et End of Mankind (ex-Eternal Majesty). Voici le communiqué officiel :
"We are happy to announce that Necrowretch will headline saturday VII. The french horde lead by Vlad since 2008 has become the main reference in terms of french Death Metal. "With Serpents Scourge", their second album is just out and their success is now international, so it's time for them to strike Nantes for the first time! Necrowretch will spread chaos & disease over Darkness Prevails festival. Be there or be dead.
It's only the beginning.
----------------------------------------------------------------------------
Nous sommes heureux de vous annoncer que Necrowretch sera la tête d'affiche du samedi 7 novembre. La horde française menée par Vlad depuis 2008 est devenue la principale référence en terme de Death Metal français. "With Serpents Scourge", leur second album est tout juste sorti et leur succès est désormais international, il est donc temps pour eux de frapper Nantes pour la première fois! Necrowretch va répandre le chaos et la maladie sur le Darkness Prevails festival. Soyez là ou mourrez.
Et ce n'est que le début."