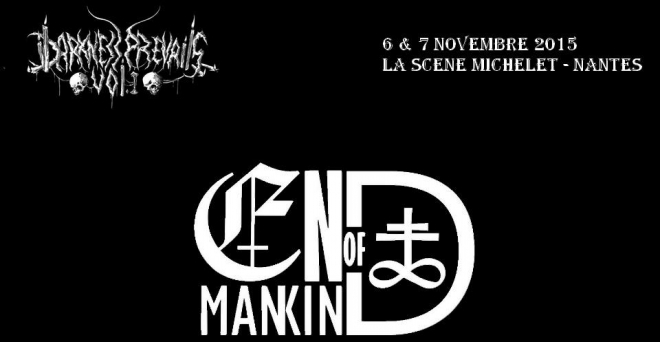 mercredi 8 avril 2015 - Balin
End of Mankind (ex- Eternal Majesty) se rajoute à l'affiche du Darkness Prevails fest Vol. I.

Balin
Matthieu, 24 ans, basé à Nantes. Ancien membre d'U-Zine et de Spirit of Metal. Vous me retrouverez pour les chroniques et live reports de divers styles musicaux.
L'association nantaise Eviscer'Asso vient d'annoncer le deuxième nom de son festival, Darkness Prevails vol. I, qui se déroulera les 6 & 7 novembre 2015 à Nantes. Après Cult of the Horns, c'est au tour d'End of Mankind (ex- Eternal Majesty) d'être annoncé. Voici le communiqué facebook de l'association :
"We are pleased to bring you End of Mankind at the first edition of Darkness Prevails festival. Those who have known the glorious epoch of french Black Metal must certainly know Eternal Majesty with their masterpiece called From War to Darkness. Some members had also played in bands like Antaeus or Aosoth. The band split after their last album in 2006 and returned after almost ten years of silence under the name End of Mankind with a different line up.
For those who don't know them yet, check this pure madness. It will be their first live appearance and yes, they will play some Eternal Majesty's songs so don't miss them!
-------------------------------------------------------------------
Nous sommes honorés de vous annoncer la présence d'End of Mankind lors de la première édition du Darkness Prevails festival. Ceux qui ont connus la glorieuse époque du Black Metal français doivent certainement connaitre Eternal Majesty et leur chef d'oeuvre From War to Darkness. Certains membres ontd'ailleurs également joués dans des formations comme Antaeus ou Aosoth. Le groupe a splitté après leur dernier album paru en 2006 et revient après près de dix ans de silence sous le nom d'End of Mankind avec un line up différent.
Pour ceux qui ne les connaissent pas encore, jetez-y une oreille immédiatement. Ce sera leur premier concert sous cette forme et oui, ils joueront des titres d'Eternal Majesty donc ne les loupez pas!"