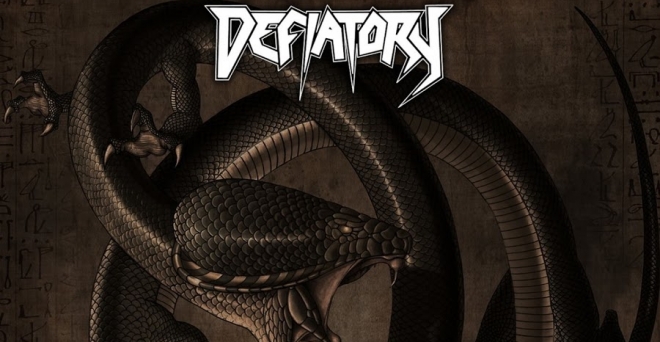 samedi 14 avril 2018 - Raleigh
"Bane of Creation", le nouvel extrait pour le prochain disque de Defiatory

Raleigh
Les Suédois de Defiatory (Thrash Metal) diffusent un nouvel extrait de leur prochain album !
Baptisé "Hades Rising", le nouvel album du quintet d'Umeå paraîtra en printemps prochain via Black Lion Records, succèdant à "Extinct" (2016).
Quelques mots du groupe à propos de son prochain opus :
"HADES RISING carries on from the raw thrash metal sound established on the debut album, evolving in more rhythmic and melodic sessions, granting more variety without losing focus on what is important in the old school style of thrash metal."

Pour rappel, le titre "In Hell" avait été dévoilé il y a peu avec son clip, juste ici.
Découvrez la pochette de l'album ci-dessous, signée Mika Rudin, ainsi que le morceau "Bane of Creation'' !
Tracklist :
1. In Hell
2. Dance of the Dead
3. King in Yellow
4. Stronger Than God
5. Death Takes Us All
6. Morningstar
7. Down To His Kingdom Below
8. Metatron
9. Bane of Creation
10. All That Remains
11. Hades Rising