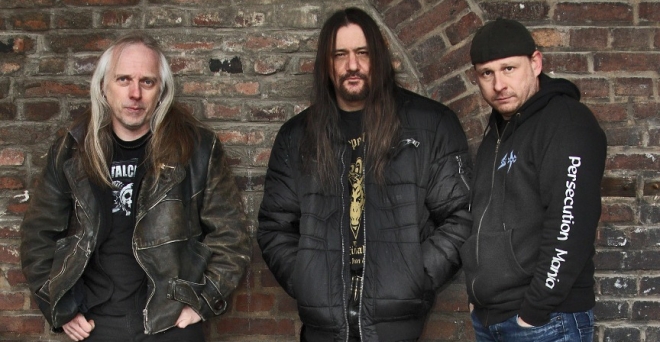 vendredi 5 janvier 2018 - Nostalmaniac
Sodom se sépare de son guitariste et de son batteur

Nostalmaniac
Le Max de l'ombre. 29 ans. Rédacteur en chef de Horns Up (2015-2020) / Fondateur de Heavy / Thrash Nostalmania (2013)
Gros bouleversement chez Sodom en ce premier mois de 2018. Tom Angelripper a en effet décidé de se séparer de son guitariste Bernd "Bernemann" Kost (en place depuis 1996) et du batteur Markus Freiwald aka Makka qui avait rejoint la formation en 2010.

Le leader du groupe allemand explique ces changements par la volonté d'un nouveau départ avec de "nouveaux musiciens affamés" (sic).
Pour l'heure, le nouveau lineup n'est pas encore annoncé mais les prochaines dates sont maintenues.

Le communiqué (en anglais) est à lire ci-dessous.
"The new year has started with a bang for all Sodom fans: vocalist/bassist Tom Angelripper has split up with guitarist Bernd "Bernemann" Kost and drummer Markus "Makka" Freiwald. "After much thought and reflection I have decided on this difficult step to pave the way for new challenges," explains Tom. "Sodom have always lived off the commitment and passion of everybody involved. Makka was part of the band for almost eight years, Bernemann even for more than twenty. To obviate a possible routine setting in which would make it impossible to continue our creative work optimally, I would like to start all over again with fresh and hungry musicians. At the same time I would like to say thank you to Bernemann and Makka for many successful years in which we performed fantastic shows and released a number of real metal manifestos."

Irrespective of this spectacular line-up change, all scheduled Sodom shows will take place from April 2018 as announced. Tom is set to introduce his new comrades-in-arms at the Full Metal Mountain. Whether Sodom will continue to operate as a trio or perhaps become a quartet in future remains unclear. Tom: "I haven't really made up my mind in this respect, I'm open to all options. I will now install the band's new foundation pillars and look around for new musicians. One thing is already clear: Sodom will become even stronger!"

Together with his new line-up, Tom wants to start working on the upcoming album – to be released on Steamhammer/SPV – as soon as possible. Tom: "SPV also look forward to our future collaboration and expect a totally motivated band."
« Decision Day », leur dernier album, est paru en 2016.