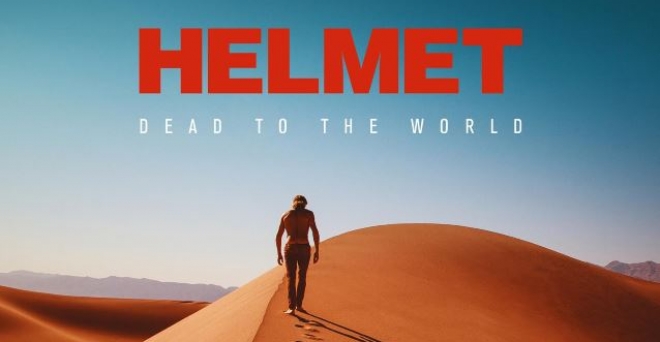 mercredi 5 octobre 2016 - Hugo
Helmet dévoile le titre "Bad News" et annonce une tournée européenne

Hugo
Voix derrière River Of Gold.
Helmet (Alternative Metal - USA) sortira son nouvel album le 28 octobre prochain.
Intitulé Dead To The World, il paraîtra via earMusic. Le disque a été produit par Page Hamilton et mixé par Jay Baumgardner.
Découvrez-en un premier extrait ci-dessous, ainsi que les dates de la prochaine tournée européenne du combo !
Tracklist :

01. Life or Death
02. I ♥ My Guru
03. Bad News
04. Red Scare
05. Dead To The World
06. Green Shirt
07. Expect The World
08. Die Alone
09. Drunk In The Afternoon
10. Look Alive
11. Life or Death (Slow)
21.01. – Lucerna Music Bar, Prague (CZ)
23.01. – S036, Berlin (GER)
24.01. – Scheune, Dreden (GER)
25.01. – Musikzentrum, Hannover (GER)
26.01. – Knust, Hamburg (GER)
28.01. – Voxhall, Aarhus (DK)
30.01. – Vulkan Arena, Oslo (NOR)
01.02. – Babel, Malmö (SWE)
02.02. – Debaser Strand, Stockholm (SWE)
04.02. – Klubi, Tampere (FIN)
06.02. – Vega Jr, Copenhagen (DK)
07.02. – Gebäude 9, Cologne (GER)
08.02. – Doornroosje, Nijmegen (NL)
09.02. – De Casino, Sint-Niklaas (BEL)
11.02. – La Maroquinerie, Paris (FR)
12.02. – La Sirene, La Rochelle (FR)
13.02. – Barbey Theatre, Bordeaux (FR)
14.02. – Le Metronum, Toulouse (FR)
16.02. – Razzmatazz 2, Barcelona (ESP)
17.02. –Caracol, Madrid (ESP)
18.02. –Jimmy Jazz, Vutoria (ESP)
20.02. – Le Moulin, Marseille (FR)
21.02. – Bienne, Biel (CH)
22.02. – Legend Club, Milan (IT)
23.02. – Traffic Club, Rome (IT)
24.02. – Fabrik Club, Cagliari (IT)
25.02. – Bronson Club, Ravenna (IT)
27.02. – Szene, Vienna (AT)
28.02. – Conrad Sohm, Dornbirn (AT)
01.03. – Kino Siska, Ljubljana (SVN)
02.03. – Durer Kert, Budapest (HUN)
03.03. – Technikum, Munich (GER)
04.03. – Universum, Stuttgart (GER)
06.03. – Patronaat, Harlem (NL)
07.03. – Het Depot, Leuven (BEL)
08.03. – De Kreun, Kotrijk (BEL)
10.03. – O2 Islington Academy, London (UK)
11.03. – Academy 3, Manchester (UK)
12.03. – Cathouse, Glasgow (UK)