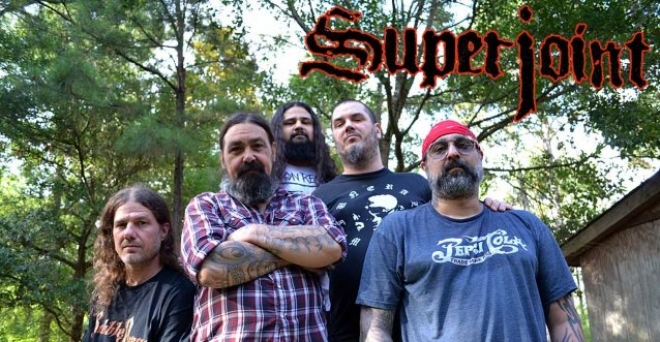 vendredi 23 septembre 2016 - Hugo
Superjoint dévoile le titre "Sociopathic Herd Delusion", issu de son prochain album

Hugo
Voix derrière River Of Gold.
Les Américains de Superjoint (Metal) sont de retour avec un nouvel album, 13 ans après la sortie de « A Lethal Dose of American Hatred » !
Le disque, intitulé « Caught Up In The Gears Of Application », sortira le 11 novembre prochain via Housecore Records.
Il a été enregistré au studio Nodferatu's Lair, produit par Philip Anselmo et Stephen Berrigan, puis masterisé sous la houlette de Scott Hull.
Pour rappel, le groupe est composé de Phil Anselmo (ex-Pantera, Down), Jimmy Bower (Eyehategod, Down, ex-Crowbar), Kevin Bond (Christ Inversion, ex-Artimus Pyledriver, ex-Floodgate), José Manuel Gonzalez (Warbeast, Philip H. Anselmo & The Illegals) et de Stephen Taylor (Philip H. Anselmo & The Illegals, Wovenhand, 16 Horse Power).
Découvrez un premier extrait de l'opus ci-dessous !
Tracklist :
1. Today and Tomorrow
2. Burning the Blanket
3. Ruin You
4. Caught up in the Gears of Application
5. Sociopathic Herd Dillusion
6. Circling the Drain
7. Clickbait
8. A*****e
9. Mutts Bite Too
10. Rigging the Fight
11. Receiving No Answer to the Knock