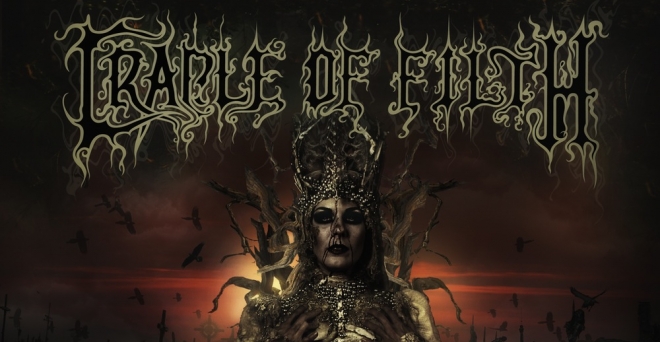 jeudi 7 juillet 2016 - Hugo
Cradle Of Filth : « Dusk... And Her Embrace - The Original Sin » en écoute intégrale

Hugo
Voix derrière River Of Gold.
Il y a presque 20 ans jour pour jour sortait « Dusk... and Her Embrace », second album studio de Cradle Of Filth (Black Metal Symphonique), chez Music For Nation.
Mais il faut savoir que cette version, que tout le monde connaît, est un ré-enregistrement d'un album qui devait voir le jour chez Cacophonous, label avec qui le groupe avait signé un contrat pour deux albums. Le disque fut alors enregistré avec l'ancien line-up du groupe (comprenant Paul Allender et les frères Ryan, partis ensuite).
La galette n'est jamais sortie sous cette version, qui voit donc officiellement le jour pour la première fois sous le nom de « Dusk... And Her Embrace - The Original Sin », avec une tracklist légèrement différente, des morceaux inédits et un son globalement plus raw.
L'album sort demain via Cacophonous, re-masterisé pour l'occasion par Scott Atkins, et comprenant deux morceaux bonus. La pochette elle aussi est différente, réalisée par Drake Mefestta.
Notons des guest de Cronos (Venom) et Steve Grimmett (Grim Reaper).
« Dusk... And Her Embrace - The Original Sin » s'écoute intégralement ci-dessous et se commande ici. Qu'en pensez-vous ?
Tracklist :
01. Macabre, This Banquet
02. Nocturnal Supremacy
03. Heaven Torn Asunder
04. Dusk and Her Embrace
05. A Gothic Romance
06. The Graveyard By Moonlight
07. Funeral in Carpathia
08. Beauty Slept in Sodom
09. The Haunted Shores of Avalon
10. Carmilla's Masque
11. A Gothic Romance (Bonus Demo Version)
12. Nocturnal Supremacy (Bonus Demo Version)
(Merci à Ryfalgoth pour sa contribution)