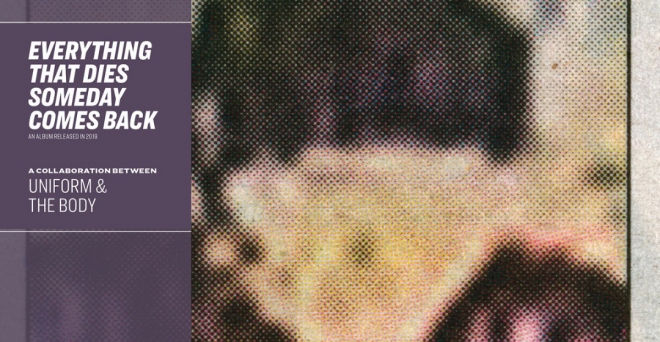 lundi 1 juillet 2019
Une collaboration entre Uniform et The Body annoncée

Raleigh
Everything That Dies Someday Comes Back, c'est le nom du split collaboratif entre The Body (Experimental Sludge/Doom Metal/Noise/Industrial) et Uniform (Industrial/Harsh Noise) qui sortira le 16 août prochain via Sacred Bones Records.
Pour rappel, ce ne sera pas la première collaboration entre les deux groupes, Mental Wounds Not Healing étant paru en juin de l'année dernière.
Découvrez le morceau Penance ci-dessous.
Tracklist :
1. Gallows in Heaven
2. Not Good Enough
3. Vacancy
4. Patron Saint of Regret
5. Penance
6. All This Bleeding
7. Day of Atonement
8. Waiting for the End of the World
9. Contempt