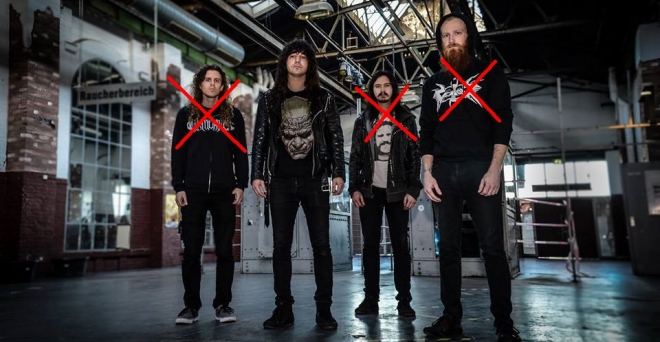 jeudi 29 décembre 2016
Vektor se sépare de trois membres

Lactance
Vektor (Thrash Metal - États-Unis) a annoncé hier le départ de trois de ses membres, dont le guitariste Erik Nelson (membre originel), le batteur Blake Anderson et le bassiste Frank Chin.
Les raisons invoquées restent à vrai dire très floues, puisque les quatres musiciens ne souhaitent pas étaler l'affaire en public.
Ce changement de line-up laisse donc David DiSanto seul à la barre pour l'instant, mais ne menace en aucun cas la poursuite de Vektor, selon un message posté aujourd'hui par le guitariste/chanteur.
Pour rappel, Terminal Redux, le troisième opus du groupe, est paru au mois de mai dernier et s'écoute dans son intégralité ici.
Le communiqué publié hier, retiré de la page Facebook de Vektor à présent, est disponible juste en dessous, suivi par le message de David DiSanto.
Premier communiqué :
" Greetings Vektonauts. With sadness we must inform you that we, Blake, Frank, and Erik, are all departing from Vektor effective immediately. It has been a completely incredible 10-ish years that has brought us all around the world and introduced us to so many super generous, passionate, friendly people and produced three albums of which we are extremely proud. Seeing the reception for Terminal Redux in particular after all of the hard work put into it has been very humbling. Sadly we've reached a point where we can't continue with the working arrangement we have, for a number of reasons that we find unnecessary to discuss publicly. There's no big story or drama, people and personalities simply change and drift apart and we've reached our limit.
The three of us are lifer musicians and will continue to be. You'll be seeing us in other contexts, other bands, recordings, tours, and more. Our time in Vektor has been a major part of our lives and parting with that will be a serious adjustment, but ultimately we're excited to see other new ways we can put our ideas to use. We are -hugely- grateful to everyone that came out to shows, picked up merch, listened to the music, showed us a great time and kept us going. We accomplished more than we ever thought was possible when we joined and we hope you'll stay tuned for what we do next – you have certainly not seen the last of us.
We don't know if this means Dave will seek new members and continue Vektor or not, that is for him to decide and announce in his own time.
Given that it's the holidays and the future of the band is out of our hands, we'd appreciate some space for the time being as we enjoy time with friends and family (please don't message our personal pages about it, we won't reply). All the best and we'll see you down the road.
-Blake, Frank, and Erik"
Second communiqué :
"I apologize to anyone who was concerned about the post from earlier today. Vektor is not stopping. I started writing Vektor songs in 1999 and I'm still writing Vektor songs. As long as I live, Vektor will not die.
I appreciate everything that Blake, Frank, and Erik have done to help this ship take off. I also appreciate all of my band mates before them: Willy, Pablo, Adam, Mike, and Kian.
See you on the road!"
-Dave"