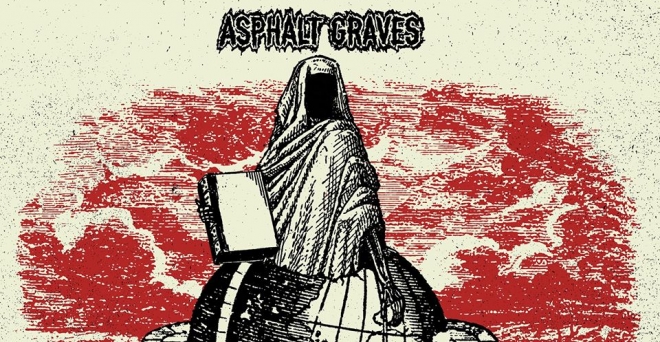 mardi 5 juillet 2016
Le premier album de Asphalt Graves en écoute intégrale

Hugo
J'écoute que du rap et de la techno en vrai.
Asphalt Graves (Death Metal / Grindcore - USA) sortira le 8 juillet prochain son tout premier album intitulé « The New Primitive » via Vitriol Records.

Netherton commente : "We are very happy with the way the album came out–it was a long, literally 'grinding' affair, that after many months of refinement, is finally dropping out of the sky like an illegal drone strike. I think this album represents four guys' unashamed dedication to a specific type of extreme sound that was forged in the 1990s, and 'The New Primitive' is our contribution to that tradition... yet one we hope stands on its own as something that is spontaneous, fun, urgent and very much of the present day."
Pour rappel le groupe est notamment composé de Jason Netherton (Misery Index, ex-Dying Fetus), Adam Faris (ex-War Torn), Brent Purgason (GWAR) et de Shannon Lucas (ex-The Black Dahlia Murder, ex-All That Remains).
Découvrez le disque en intégralité ci-dessous !
Tracklist :
01. Vulgar Theology
02. Megalomaniacs
03. Who Do You Serve?
04. No Feast (Without Cruelty)
05. Scapegoat
06. Negative Future
07. Mass Graves
08. Angst And Praise
09. Stop Resisting
10. The New Primitive
11. Time To Act
12. Let It Burn
13. Exit From Reality