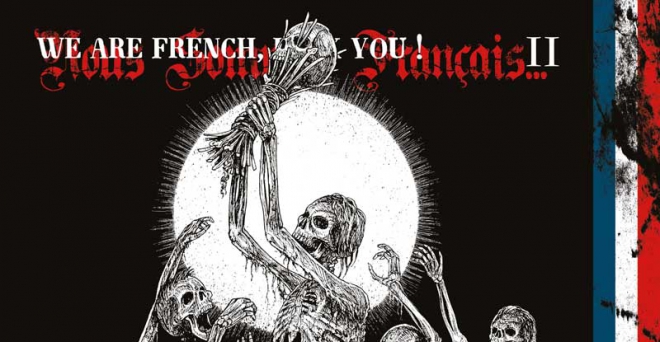 lundi 24 décembre 2018 - Nostalmaniac
Le deuxième volume de « We Are French, Fuck You ! » en février 2019 !

Nostalmaniac
Le Max de l'ombre. 29 ans. Rédacteur en chef de Horns Up (2015-2020) / Fondateur de Heavy / Thrash Nostalmania (2013)
Le label Triumph Ov Death lève le voile sur le deuxième volume de la compilation « We Are French, Fuck You ! ».
« We Are French, Fuck You ! II » sortira en février 2019 en double CD et regroupera pas moins de 24 formations de l'Hexagone, dont Mercyless, Atavisma, Nox Irae, Stonewitch, Zoldier Noiz, Grand Bouc Noir, Mortal Scepter, Blackowl, Goatspell ou encore Deathroned !
Ce double album est dédié à la mémoire de Sylvain Auvé (Northwinds) et Stéphane Guégan (Agressor, Death Power), décédés cette année.
Découvrez la tracklist complète et l'artwork ci-dessous.
Tracklist:
CD1
MERCYLESS "Sabbatic Icon"
BARABBAS "De La Viande"
GRAND BOUC NOIR "Midnight Sabbath"
ENOKHIAN "Satyr"
BLACKOWL "Birdstorm"
ATAVISMA "Martyrewomb"
NOX IRAE "Black Silent Decade"
DEATHRONED "Ritual Circle"
STONEWITCH "Your Hell Is Now My Own"
DIONYSIAQUE "Shellshock"
SEPULCHRAL "Maligno Spiritu Imbutus"
CD2
REPUGNIZER "Brainfreezed"
ZOLDIER NOIZ "Pulsion De Mort"
IRON FLESH "Fragments Of Expiation"
MORTAL SCEPTER "Obscure Entanglement"
CRYPTIC GRAVE "Necrophagus Insect"
SILVER MACHINE "From An Enemy sky"
TOWERING "In The Void"
GOATSPELL "Emanations Of Hod"
KAABALH "For The End"
NECROCULT "Return To The Earth"
SACRAL NIGHT "Le Diable Et l'enfant"
TREPANATOR "Psychose"
NORTHWINDS "In The Name Of Dagon" (demo)

L'artwork est signé Christophe Moyen.