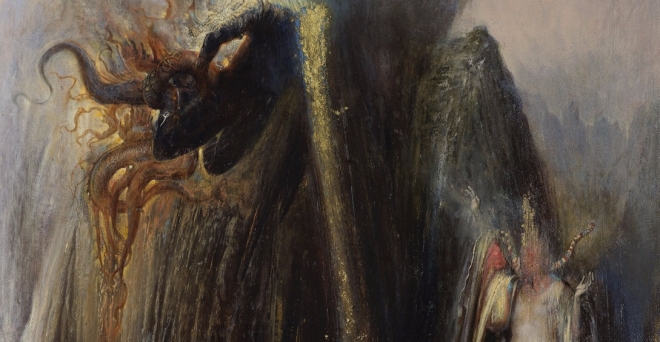 lundi 14 mars 2016 - Nostalmaniac
Un deuxième extrait du nouvel album de Howls of Ebb en écoute

Nostalmaniac
Le Max de l'ombre. 29 ans. Rédacteur en chef de Horns Up (2015-2020) / Fondateur de Heavy / Thrash Nostalmania (2013)
Le groupe américain Howls of Ebb (Black/Death Metal) va sortir le successeur de « Vigils of the 3rd Eye » (2014) le 15 avril prochain chez I, Voidhanger Records (CD/Digital), Nuclear War Now! Productions (Vinyl) et Caligari Records (K7).
Son nom ? « Cursus Impasse: The Pendlomic Vows » !
L'artwork est une oeuvre de l'artiste italien Agostino Arrivabene.

Après "Cabals of Molder", un deuxième extrait avec le titre "7 Ascetic Cinders, 8 Dowries of gA'nOm" est en écoute ci-dessous.
Tracklist:
1. The 6th Octopul'th Grin (05:30)
2. Cabals of Molder (06:13)
3. Maat Mons' Fume (08:14)
4. 7 Ascetic Cinders, 8 Dowries of gA'nOm (07:08)
5. Gaunt Vertigo (01:20)
6. Subliminal Lock: A Precursor to Vengeance (06:23)
7. The Apocryphalic Wick (07:11)