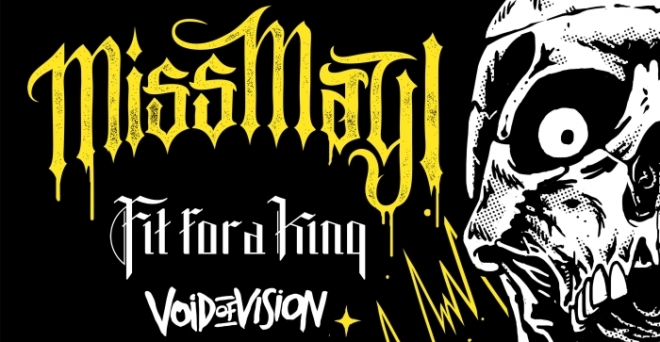 samedi 30 septembre 2017 - S.
Miss may I à Lyon le lundi 29 janvier 2018

S.
Photographe - Live-reporter - Chroniqueur - misanthrope.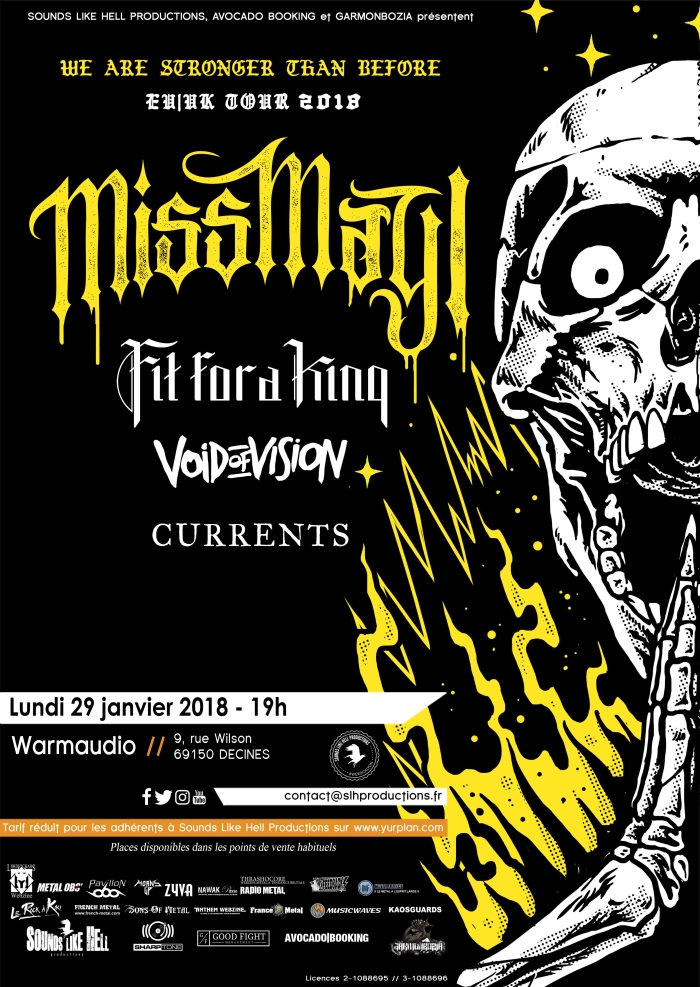 Communiqué de nos partenaires Sounds Like Hell Productions :
"Quoi de mieux pour bien commencer l'année 2018 qu'une belle affiche Metalcore ? Nous aurons le plaisir d'accueillir, pour la première fois en tête d'affiche à Lyon, les américains de MISS MAY I lundi 29 janvier au Warmaudio ! Le quintet nous présentera son sixième album "Shadows Inside" et sera accompagné par FIT FOR A KING, VOID OF VISION et CURRENTS."
Infos pratiques :
MISS MAY I + FIT FOR A KING + VOID OF VISION + CURRENTS
Concert Metalcore
Date : 29 janvier 2018
Ouverture des portes : 19h
Début du concert : 19h30
Lieu : Warmaudio
Adresse : 29 rue Wilson, 69150 Décines-Charpieu
Tarifs : 18€ tarif prévente / 16,49€ adhérent / 17,49€ étudiant / 20€ sur place
Lien billetterie : http://bit.ly/tickets-MISSMAYI
Lien évènement Facebook : http://bit.ly/event-MISSMAYI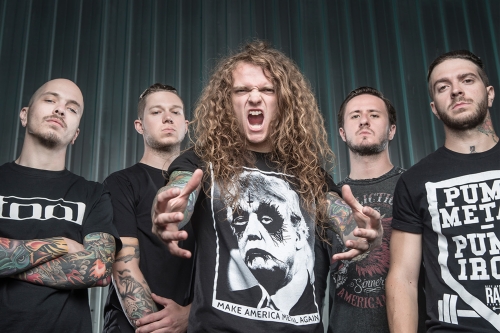 MISS MAY I
MISS MAY I est formé en 2007 dans l'Ohio par cinq lycéens. Le groupe de Metalcore américain sort fin 2007 un EP intitulé "Vows for a Massacre", qui est suivi en 2009 par l'album "Apologies Are for the Weak". "Monument" sort en 2010, MISS MAY I participe au Warped Tour 2011, puis tourne aux côtés d'OF MICE AND MEN, SLEEPING WITH SIRENS, WE CAME AS ROMANS, BURY TOMORROW... Le troisième album de MISS MAY I "At Heart" sort en 2012. Le groupe promeut celui-ci en tournant avec PARKWAY DRIVE, WHITECHAPEL, AFTER THE BURIAL, BULLET FOR MY VALENTINE... "Rise Of The Lion" sort en 2014, "Deathless" en 2015 chez Rise Records. MISS MAY I signe avec SharpTone Records en 2016 et sort son sixième album "Shadows Inside" en mai 2017. Plus accessible que les albums précédents, ce dernier fait la part belle aux mélodies et se distingue par ses riffs et ses refrains très accrocheurs.
A découvrir : "Shadows Inside"
FIT FOR A KING
Metalcore - Etats-Unis
L'histoire de FIT FOR A KING débute en 2007 au Texas. Le groupe sort deux EP et un premier album autoproduit, "Descendants", avant de signer chez Solid State Records qui fait paraître l'album "Creation/Destruction" en 2013. Son successeur, "Slave To Nothing", sort en octobre 2014. Cet opus fait preuve d'une grande maturité, notamment avec l'apport de parties très aérées et mélodiques. FIT FOR A KING sort son quatrième album, "Deathgrip", en octobre 2016 chez Solid State Records. Particulièrement marqué par les attentats survenus à Paris en novembre 2015, le groupe américain en a fait le fil de fer de cet opus incisif et provocateur, traitant ainsi de la fragilité de la vie et de l'impuissance face à la mort.

A découvrir : "Dead Memory"
VOID OF VISION
Metalcore - Australie
VOID OF VISION fait ses débuts sur la scène Metalcore australienne en 2013. Le groupe sort son premier clip "Life // Blood" en avril 2014, puis l'EP "Broken // Bones" fin 2014. Celui-ci obtient un très bon accueil et permet à VOID OF VISION d'enchaîner les tournées en Australie. VOID OF VISION a sorti son premier album "Children Of Chrome" fin 2016 chez UNFD.
A découvrir : "Ctrl Freak"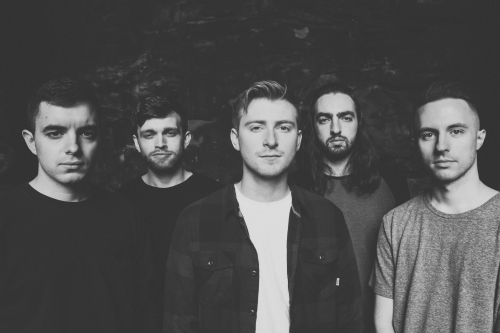 CURRENTS
Metalcore / Djent - Etats-Unis
CURRENTS se forme en 2011. Après deux EPs, le groupe de Metalcore/Djent change de vocaliste en 2015. C'est avec un line-up particulièrement soudé que CURRENTS sort son premier album "The Place I Feel Safest" en juin 2017 chez SharpTone Records.
A découvrir : "Apnea"