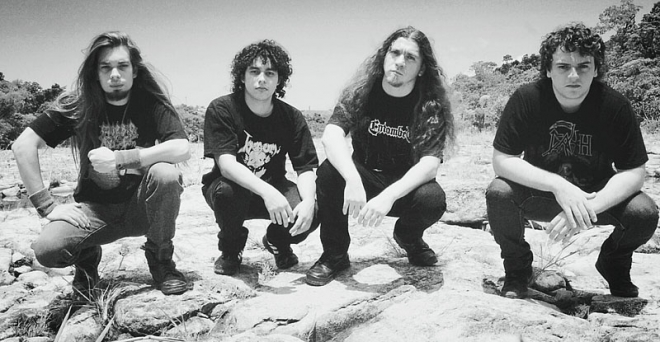 mardi 30 mai 2017 - Traleuh
Verthebral : nouvel album dévoilé ; infos et extrait

Traleuh
Ragged & dirty.
Verthebral (Death Metal - Paraguay) vient de dévoiler son nouvel et premier album longue-durée : "Regeneration".
La galette paraîtra le 29 juin prochain via Satanath Records en collaboration avec Final Gate Records et More Hate Prods. Il s'agira donc du premier longue-durée du quartet, succèdant à l'EP "Adultery of Soul" paru en début d'année 2015.
On apprend également que ce nouvel opus a été enregistré, mixé et masteré par Alberto Santacruz au Abato Records, situé au Paraguay. L'artwork est signé Marcos Miller.
Découvrez un premier extrait de la bête avec le morceau "Place of Death" ci-dessous !
Tracklist :
1. Apocalyptic Seasons (Intro)
2. Place Of Death
3. Spirit In Solitude
4. Regeneration
5. Beyond The Garden Of Creation
6. Without Any God
7. Old Man's Memories
8. The Plague Of Insomnia
9. Immaterial Essence Of Things
10. Inside Of Me