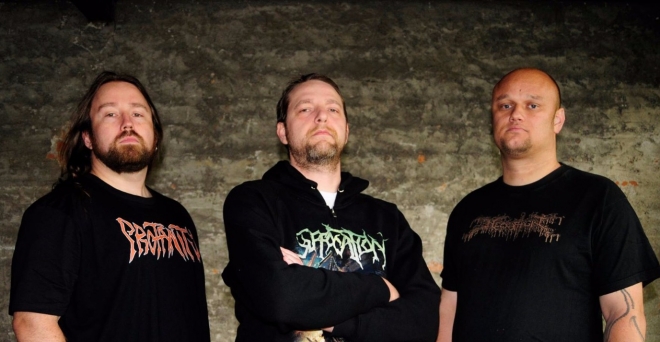 jeudi 16 février 2017 - Traleuh
Profanity : nouvel album annoncé ; infos et extrait

Traleuh
Chroniqueur de son état (la Bolivie).
Les bavarois de Profanity (Technical Death Metal) nous reviennent pour un nouvel et troisième album !
C'est donc 17 ans (!) après leur dernier longue-durée en date, le fameux "Slaughtering Thoughts", que la formation revient avec un nouvel opus intitulé "The Art of Sickness", qui paraîtra le 21 avril prochain via Apostasy Records.
Et pour l'occasion, on peut dire que le groupe a su s'entourer puisque seront présent sur la galette Terrance Hobbs (Suffocation), Adrie Kloosterwaard (Sinister), Ricky Myers (Disgorge, Suffocation), Christian Münzner (Alkaloid, ex-Obscura) et enfin Martin Bauer, ancien bassiste de la formation !
On apprend également que l'album a été enregistré au Iguana Studios (Spheron, Imperium Dekadenz, Necrophagist) par Christoph Brandes. L'artwork est signé Pär Olofsson, artiste très connu de la scène ayant travaillé avec de nombreux grands groupes tel que Immolation, Exodus, The Faceless, ou encore Spawn of Possession.
En outre, Profanity a profité de l'annonce pour nous dévoiler un premier avant-goùt de la bête : il s'agit du titre "Who Leaves Stays", disponible ci-dessous avec la pochette !
Tracklist :
1.. The Great Obstacle
2. Who Leaves Stays
3. Mouth of Nepotism
4. Recreating Bliss
5. Specific Souls
6. Better Left Alone