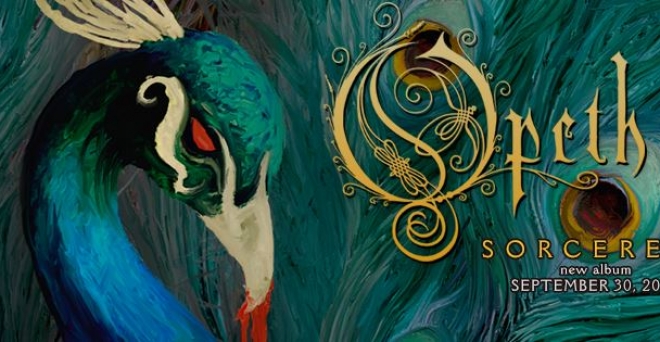 lundi 18 juillet 2016 - Hugo
Tracklist et artwork du prochain Opeth

Hugo
Voix derrière River Of Gold.
On en sait encore plus sur le prochain album studio de Opeth (Metal Progressif - Suède) ! Après un premier et un second teaser, le groupe nous dévoile artwork, date de sortie, et tracklist de son douzième disque.
Intitulé « Sorceress », il sortira donc le 30 septembre prochain via Moderbolaget Records (Nuclear Blast).
Quelques mots de Mikael Åkerfeldt à son sujet : "The new album »Sorceress« is our 12th studio album since our beginnings in 1990. I find it difficult to understand that we've been going on for 26 years, let alone that we've made 12 records now, all of which I am very proud of. "Sorceress" is no exception. I love this album, as does the whole band. I wrote the music during 5-6 months and we spent only 12 days recording it at Rockfield studios in Wales. I find that once again we've taken a step forward. Or sideways, Or backwards. Somewhere!? It's different! It's extremely diverse. And if I may say so myself, extremely good. I feel the right to say that since I like to think I know this band better than anyone on the planet. Also, I always manage to detach myself from the record and listen as a fan. It's a fine little record. My favorite in our discography right now. Of course. That's how it should be, right? It's both fresh and old, both progressive and rehashed. Heavy and calm. Just the way we like it. Hopefully there'll be others around the globe sharing this opinion. It was a joy to make it. A fucking joy to record it, and a sheer joy listening to it. So there you have it!"
La pochette a été réalisée une fois de plus par Travis Smith et se visionne ci-dessous !
Tracklist :
1. Persephone
2. Sorceress
3. The Wilde Flowers
4. Will O The Wisp
5. Chrysalis
6. Sorceress 2
7. The Seventh Sojourn
8. Strange Brew
9. A Fleeting Glance
10. Era
11. Persephone (Slight Return)